What's in our workbox this week?
First, Scarlett chose to make a reindeer-- we made triangles and then glued on wiggly eyes a red nose (for Scarlett's and a black nose for mine)-- this was decided upon by Scarlett who told me there can only be one reindeer with a red nose- OF COURSE! We cut a brown pipe cleaner in half and wrapped it around the top of the triangle for antlers! Next Scarlett wants to hang them on the tree.
I found this cute game on
Make Learning Fun
- I really like some of the things I have found there! :)
So Scarlett rolled the dice... I love these dice! They are rubber and enormous- great for counting games (I got them a long time ago... probably at some type of dollar store but I honestly don't remember!) And while she counted and added M&M's to Santa's beard.... guess who climbed up on another chair and helped herself to a few M&M's....
This was quite a treat for Miss Lily- she has never had those before.... I think I have created another Choco"holic" in the family... uh oh!
Next Scarlett finished a letter that she had been working on for her 2nd cousin, who she had SOOO much fun playing with during Thanksgiving- they have been sending cards and letters (or in Scarlett's case pictures) back and forth to each other. Pretty cute!
Next, Scarlett did a tree matching game- I love this game! I laminated it and cut them out then we placed the big trees in cups and she had to match the trees correctly- some of the patterns where a little similar and she had some trouble but ended up doing them correctly and was soooo proud of herself! :)
Scarlett LOVES to stamp!
AND Paint with Watercolors! This was some type of reindeer? :) Love her little pieces of art!
We also matched nativity scenes this week- she had to match the colors- which really was too easy for her but still good practice and while she did that little Miss Lily played with the alphabet magnet game!
Finally, we worked on our letter for the past 2 weeks- letter C! Scarlett wrote the letter C in shaving cream which she loves to do- I don't mind it either because.....
after a messy day of TOT SCHOOL--- it cleans the table up just great and leaves everything smelling clean! (This is Scarlett helping me clean up the table!)
HAVE A GREAT WEEKEND!!!
**If you haven't already- become my follower- I'd love to have you!**
Want more great ideas? Check them out here!

AND HERE:
AND HERE TOO!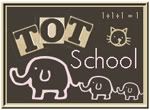 AND ALSO HERE at WEIRD UNSOCIALIZED HOMESCHOOLERS!