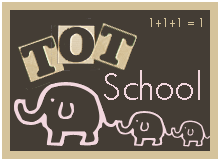 We are slowly trying to get back into a routine... I wouldn't say we got there exactly this week but we did do lots of fun activities- the girls have been trying out all of their new learning toys that they received for Christmas! I had almost as much fun as they did! LOL
Sisters stacking blocks :)
My most recent Dollar Tree buy- a plastic piggie bank.
I cut the top slit much wider and taped electrical tape on it. Then Lily happily plunked a whole small bowl full of milk caps into the piggie. She loved it (I know it's not the most beautiful looking pig- but it was a quick fix to give her something special to do.)
Meanwhile....
Scarlett was using this neat paint set she received as a gift- it is no mess paint... but the color shows up on special paper-- MAGIC!
**********************************************************
We received LOTS of puzzles for Christmas... with these animal puzzles I played a little game- I would ask Scarlett-" What is a very large animal that has a long trunk? Then she would find the piece and put it in the correct place!
Lily has her large knobbed puzzle too!
YAY FOR LILY!!

************************************************************
You can't complete a day of Tot School without some good old fashioned playdoh! Scarlett rolled, cut, and smooshed that playdoh all over!
I found these great cards at Target that say thank you for a gift and leave blanks for the name, and the type of gift given... These would be really great for early writers( like 1st or 2nd grade). But I had Scarlett write the first letter of her name on the "Sincerely," part of the letter. I thought this was good practice to teach her about writing thank you notes when you receive gifts and also for her to practice writing the first letter of her name. She has been doing this for about 3-4 months but she is getting REALLY good at it- this helped seal the deal!
(By the way... I think I am going to create my own on the computer from now on... this idea is too easy not to make!!- Don't you think?)
Finally, Daddy was very sick today... all day long Scarlett wanted to make Daddy some soup...(but he really couldn't stomach anything!)
At the end of the day, she was able to talk him into some noodle soup. She was so excited to be able to finally "take care of her daddy". Such sweetness!!! (yes I'm bragging... just a little...)
One more pic of my Lily with her piggy!! :)
Here's Hoping YOU have a GREAT NEW YEAR!!
xoxox, Jo
Want more great ideas for your Tot? GO HERE:

AND..... Weird, Unsocialized Homeschoolers-WEEKLY WRAP UP!
and