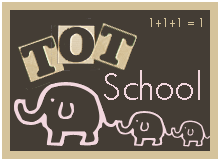 Starting next week, along with various Tot school activities that we will be doing at home, we will be officially be starting Thursday Preschool Playdates with a couple of Scarlett's 3 and 4 year old friends. We had a trial playdate last week and it went so well! I will work with Scarlett on Tuesdays at home with her little sister and then Thursdays another mommy (or two) and myself will be splitting up the Thursdays in the month to work with the kiddos as well. Should be great!
So this week we were sort of in "limbo" and so we just did lots of fun "preschoolish" activities! Enjoy!
Cutting with her plastic fruit (one of her Christmas presents)
Lots of painting!
One of her favorites- using small clothespins to hang the "wash" on the line.. there weren't enough felt pieces and so she went and got some of her socks! Great activity to work on fine motor skills.
Of course, Lily always wants to help her big sis!
Shape activity- I hide the shapes around the room and she has to find them (she loves this part) and match them to the sheet that has the shapes on them (I always ask her what color the shape is too!)
Stacking her boxes- her little sis had to "help" with this too- and "helped" knock them over quite a few times- Scarlett was very patient with her little sis!
Matching Upper Case letters with Lower case letters- I found colorful, plastic poker chips at Dollar Tree and glued the lowercase letter with same picture to the chip. Then Scarlett matches it to the same picture and Upper case letter on the paper. She did great- and really enjoyed it!
Making mini cupcakes for Mommy's birthday! Scarlett LOVES to help cook- especially if it has anything to do with chocolate (this girl SERIOUSLY takes after me!! LOL)
She iced all the cupcakes (but I'm not sure it all went on the cupcakes... see her face?!?) LOL
Here is how they turned out... Ta da!
Here is Mommy's birthday cake and the mini cupcakes!
This was one of my favorite pics this week... we bought Lily a Pottery Barn First Chair because big sister has one as well- they love to read books in that chair! Now, Scarlett will pull her chair into Lily's room and they pull the books up in between them and sit and READ!!
I am just in heaven and took tons of pictures- too sweet!
These are the moments that make me so happy and BLESSED that I am a stay at home mommy!!
For more Tot or Preschool fun.. check out:
or