Thursday Preschool Playdate and the LETTER R
R is for RICE and RED (TRACE the letter R in glue stick and then cover with rice!)
Shake the excess rice off of the red letter R and (ta-da!) a RED, RICE LETTER R!
**Then, we read The Tale of Peter Rabbit by Beatrix Potter and talked about rabbits- I don't have many pictures but you can see in some pictures the bunny ears each kid received as well as a little wind-up bunny (they
R
aced those later on in a RABBIT RELAY RACE!)
Painting Rice Cakes- "
R
AINBOW
R
ICE CAKES!" (such a cute idea from:
Mom Tried it)
(I used condensed sweetened milk mixed with food coloring- and they painted it on the rice cake- yummy!)
Then we got our letter R exeRcise!!
We played Ring toss...
we Rolled...
we Raced and had Relays...
(notice we also had a Red drink... cranberry juice to be exact!) :)
Earlier in the week Scarlett and I worked on a few other things as well...
I made this nifty recycled color game... this cardboard piece is from a quilt that I bought for Scarlett's bed at Target. It had these slits in it (where they had a ribbon to tie around the whole quilt). I almost threw it away but the slits were perfect for putting poker chips through it! So I whipped this up- very quickly! On the underside (you can see colored tape above the slits) I taped baggies to catch the colored poker chips and to see if she matched them correctly!- FUN! (and I recycled- that felt good too! ha ha!)
My tiny tot LOVED to play this with her big sis!
We also did a really cute color match cross game that I printed and laminated
We had a RRRReally fun week! :)
For more great ideas check out: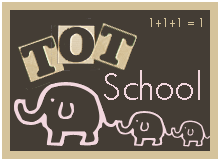 AND